The Dutch Oven is a versatile piece of cookware, accommodating a variety of cooking techniques and recipes. The Dutch Oven's features, including a tight-fitting lid and a self-basting cycle, make this cookware a mainstay in households all-year round.
Fall is officially here, meaning it's time to break out of the Dutch oven and prepare some delicious meals. These Dutch oven fall recipes are perfect if you're looking to eat something warm on these crisp fall evenings, and they also make fantastic family-friendly meals you can make together with your loved ones. Whether you have kids or not, these recipes are easy to follow and satisfying:
Pumpkin Apple Soup
This pumpkin apple soup is the perfect way to cozy up on a cool fall day. It's made with toasted pumpkin, apples, pepper, thyme, vegetable stock, and onions and finished with a touch of cinnamon. The recipe calls for vegetable stock instead of chicken broth, so it's vegetarian-friendly. Serve it with some crusty bread for dipping, and you'll be in heaven.
Either way, serving this Pumpkin Apple Soup to friends or family is excellent. They will be impressed with your delicious soup recipe and ask for more. However, to make the soup, you need a Dutch oven to help you achieve creamy consistency and savory flavors.
Make sure you have all these ingredients the next time you make a trip to the grocery. You can scale the soup by adjusting your portions. Welcome the fall with better flavors; nothing beats the Pumpkin Apple Soup. Enjoy!
Honey, Cranberry, and Pistachio Brioche
This Honey, Cranberry, and Pistachio Brioche is the perfect recipe for fall. The honey and cranberries give it a sweetness that is perfect for the cooler weather, while the pistachios add a nice crunch. This brioche is best served warm, straight out of the oven. And trust me, it's worth the wait. Serve with fresh fruit, whipped cream, or vanilla ice cream. The cook time for this recipe is 2 hours.
If you want to prepare honey, cranberry, and pistachio brioche, these are the ingredients: Dough; liquid honey, milk, orange zest, vanilla bean, all-purpose flour, instant yeast, sugar, ground cardamom, salt, unsalted butter, and eggs: filling; cream cheese, liquid honey, pistachio cream, vanilla extract, all-purpose flour, frozen cranberries, sugar, shelled unsalted pistachios, and orange zest, and Toppings; milk, white egg, coarse salt, liquid honey and shelled unsalted pistachios.
Maple-Cinnamon Bagels
There's nothing like a freshly-baked bagel, and these Maple-Cinnamon Bagels are the perfect way to start your fall morning. The recipe is simple, and the results are delicious. Be sure to enjoy them with a cup of hot coffee or tea. They're also perfect for sandwiches and a great alternative to traditional bread for toast.
The ingredients are easy to find: sugar flakes, ground cinnamon, kosher salt, yeast, eggs, honey, maple syrup, vegetable/canola oil, all-purpose flour, raisins, and whole-wheat flour.
We promise that you'll be hooked once you try this amazing recipe. This would be if there were ever an excuse to buy a dutch oven in fall.
Cinnamon Buns
There's nothing like the smell of cinnamon buns baking in the oven. These cinnamon buns are soft, fluffy, and full of flavor. Plus, they're easy to make. And when they're made in a Dutch oven, they're even better.
If you want to try these buns, these are the ingredients to use: cake flour, sugar, salt, tepid water, raisins, instant yeast, and cinnamon. Mix yeast, warm water, sugar, salt, and cake flour; then let it rise for about 10 minutes until the dough turns smooth and elastic. Divide dough into balls; then roll each ball into a circle (that will fit nicely into your Dutch oven). Brush the syrup on the dough and sprinkle with sugar and cinnamon. Fold the rectangular side of the dough into spirals and cook them in your Dutch oven. Remove once they turn brown, and enjoy.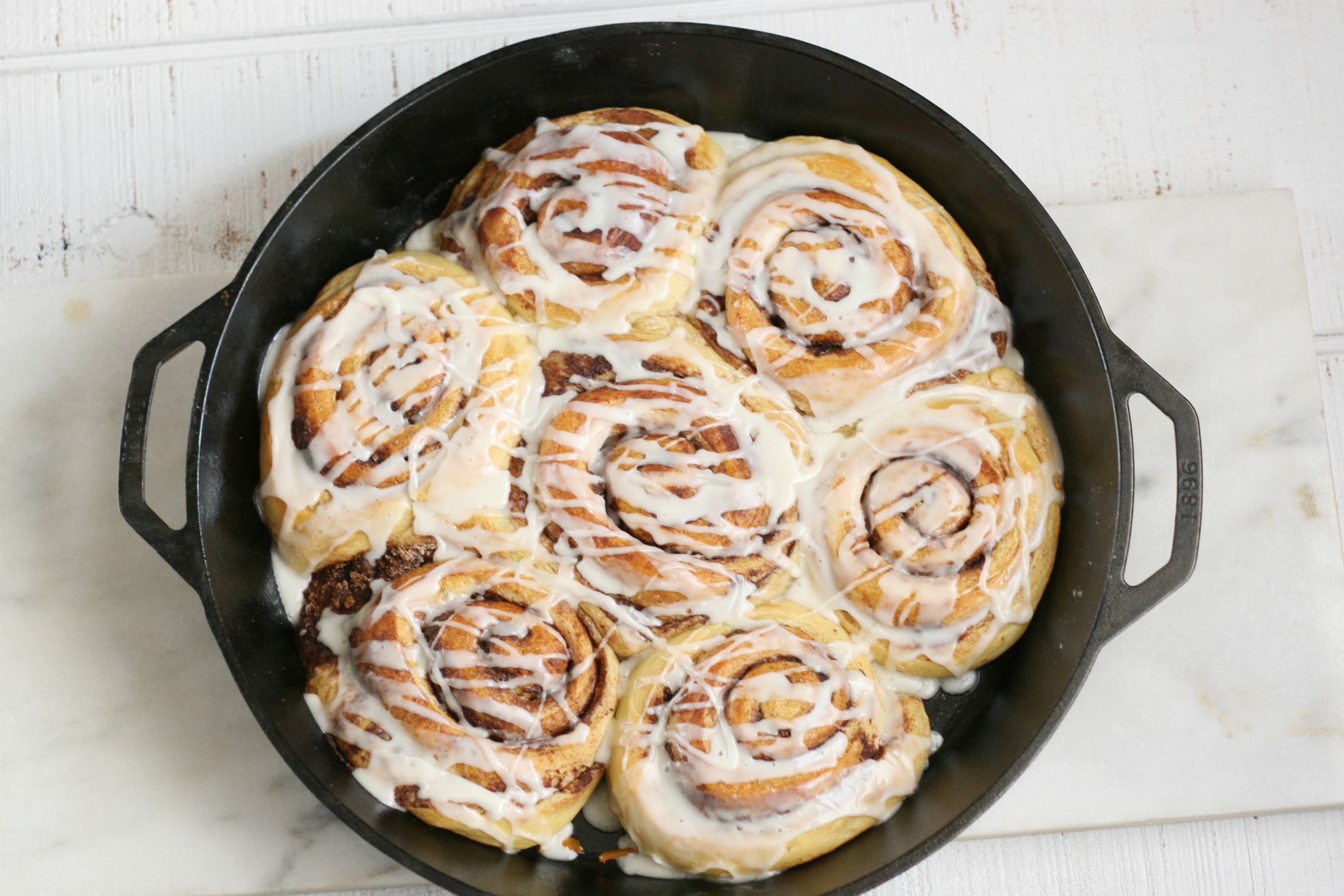 Maple Delicata Squash
This dish is perfect for chilly fall evenings. The maple syrup and fresh sage leaves give the delicata squash a sweet and tangy flavor, while the cinnamon stick and black pepper add a touch of earthiness. And, of course, the bubbling melted parmesan cheese on top is always a welcome addition. Start roasting the squash with pepper and salt in a hot oven to make this dish. Then, add the rest of the ingredients to the pot and let everything simmer together until the cheese is melted and bubbly. Serve the maple delicata squash to mop up all of the deliciousness.
Maple and Spice Glazed Ham
This dish is the perfect way to use any leftover ham. The maple and spice glaze gives the ham a delicious flavor that will have your family and friends asking for seconds. And it's easy to make.
The ingredients of this delicious recipe include smoked pork shoulder, maple syrup, water, chicken broth, whole-grain mustard, freshly squeezed orange juice, salt, apple cider vinegar, black pepper, rosemary, and star anise.
Remember, this is among the best recipe you can enjoy preparing with a Dutch oven. The cooking time will vary on the size of the ham you want to prepare. Calculate time-based on weight, i.e., 20 minutes for each pound. And if the ham is bigger than your Dutch oven, such that the lid does not fit snuggly, use foil to cover it tightly.
Conclusion
There's nothing like a bowl of warm, homemade soup on a cold day. And what could be better than a pot of soup made in a Dutch oven? This kitchen staple is perfect for cooking soups, stews, and casseroles. So if you're looking for cozy comfort food this fall, check out our best recipes above. From Pumpkin Apple Soup to Maple and Spice Glazed Ham, there's something for everyone. All these hearty options are made even better by using one of our favorite cookware pieces: the Dutch oven. So grab your spoon and get ready to enjoy the best of fall.